Guitar scales charts as eBook
The Guitar Scale Collection eBook include charts with scale diagrams, tabs, notation and fingerings plus tips with theory and tables for learning guitar scales.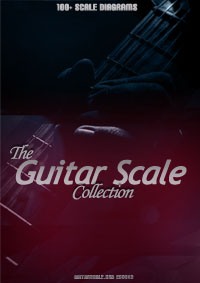 Buy now for $6
Credit card or PayPal (secure payment service by Payhip)
High resolution for screen and print (300 DPI)
Guitar scales charts
Learning guitar scales from charts in visual presentation is the best way to learn and memorize scale patterns. This eBook (61 pages) include all the fundamental categories of scales (including Major, Minor, Pentatonic and modes) presented in diagrams for each key.

The collection also present the scale as tabs plus standard notation with scale diagrams for exercise and additional reference. These overviews also include fingerings for all presented scales.

Same graphic concepts are used in the eBook as on the Guitarscale.org site. The difference is that you get a "package" of scales that you can have handy on your computer, tablet or mobile whenever you need a reference. The charts are also delivered in 300 dpi for high print quality.

Major scales are the most important scales to learn. Not only because they are the most common, but also because a large part of the remaining scales is compared to them. The seven modes, for example, are essentially Major scales, but starts on other steps in the scale.

In an appendix, scales and chords tables are presented in all 17 keys.
Preview thumbnail screenshots: