5-string bass scales eBook
The Bass Scale Collection for BEADG tuning eBook include charts with scale diagrams plus tips and theory for learning bass scales (for BEADG tuning on the 5-string bass).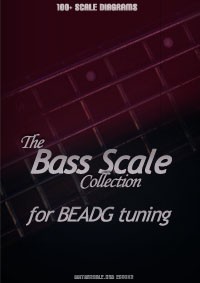 Download
You choose the price for this eBook. Credit card or PayPal (secure payment service by Payhip)
High resolution for screen and print (300 DPI)
Bass guitar scales charts
This eBook is a reference for the fundamental categories of scales for all 17 keys:
Major
Minor
Melodic Minor
Harmonic Minor
Pentatonic Major
Pentatonic Minor
Ionian
Dorian
Phrygian
Lydian
Mixolydian
Aeolian
Locrian
The eBook can be downloaded to your computer, tablet or mobile.

The charts are made in 300 dpi for high print quality.